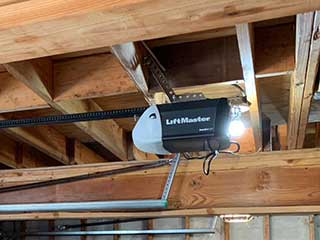 An automatic opener has a lot to offer your home in terms of security and accessibility. You'll be amazed how convenient your daily routine can become by having this type of device installed. Before you buy one, however, you'll need to make sure you're getting a model that's the best fit for you. While there are a lot of things to consider, like whether or not to get a unit with a DC or an AC motor, and which special features are worth investing in, the main things that differentiates garage door openers is the type of drive system they employ.
The Affordable and Powerful Chain Drive
The drive system is essentially the part of the opener that replaces your arm. It is what controls the movement of the door, while the motor itself is what generates the horsepower required to initiate the movement. A chain drive opener is often stronger than its counterparts, as well as more affordable. However, the main disadvantage this type of unit presents is noise output, as it can be very loud and may not be a great fit if you have an attached garage. Another potential issue is maintenance, as units of this type need to be lubricated from time to time and their chain may need to be adjusted periodically as well.
The Smooth and Silent Belt Drive
If the chain drive units are on one end of the spectrum, the belt drive models are on the opposite end. This type of unit works very similarly, but uses a reinforced rubber belt instead of a chain. This allows them to be nearly silent, which is a great benefit to those who want using their garage door to create a minimal disturbance. The disadvantage of a belt drive opener is the price, as models of this type tend to be more expensive than the other ones.
The Fast Screw Drive Option
This type of unit is almost a happy medium between the two former ones. It isn't silent by any stretch, but it requires very little maintenance, due to the fact that it consists of only a handful of moving parts. Its operating speed is also the fastest out of the three. The only downside with a screw drive opener, apart from noise output, is the fact that it can be affected by extreme temperatures.
Let Us Help
If you're not sure as to which type of drive system is going to be the best fit for you, then our experts at Garage Door Repair Northport will be more than happy to help. Once we've helped you make an informed decision, and made sure you didn't neglect to consider all the extra features, like smartphone connectivity and rolling code technology, we'll carry out the opener installation process for you and make sure your new unit is working flawlessly from day one.