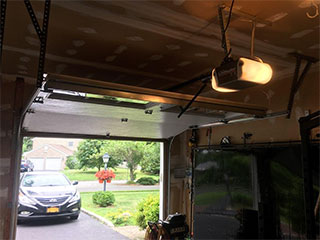 There are many different garage door opener models out there, and if you're looking to get a new one installed, we want to make sure you get the best one for your needs. We also offer full support for when these motorized units begin to fail, so you can count on us for professional repairs and regular maintenance too.
Hardware and Motor Repair
Sometimes, an opener may fail just because its motor got overheated. Wait for around 10 to 15 minutes and start it again. If it doesn't work, get in touch with us and we'll solve the problem. An opener that won't work can be the result of all sorts of issues. In most cases, the trolley broke or the motor gear suffered a similar fate, or simply wore out. We'll replace the hardware part quickly, no matter how old your opener is or what brand it belongs to. Issues with the motor are far less common in modern garage door openers, but you can count on us to resolve them in the same quick and effective way. If you're having some remote control troubles or problems with your clicker, we'll be happy to assist you with that as well.
Troubleshooting the Safety Sensors
Each automatic door system is required to have a pair of these photo eyes so that they'll be able to detect obstacles in time. If these units fail, your door may start to reverse when you try to close it, or it may fail to open back up when it hits something. This is incredibly unsafe, and this type of problem needs to be avoided. As part of the maintenance service we provide, we'll check the alignment of the photo eyes and make sure that the door reverses properly when they detect a problem. If we find that the lenses broke or that the units are beyond repair, we'll install new safety sensors that will be able to do their job correctly.
Opener Installation You Can Count On
If you're looking to have a new motor unit installed, our first task will be to help you choose from the different options available today. All major brands, from LiftMaster to Craftsman, offer high-quality models with different special features that can be worth investing in. We'll explain the differences between the design and performance of chain, belt, and screw drive units and help you decide on which new features and accessories, such as remote operation via a smartphone app and a wireless keypad, are suited to your needs. After installing the motor unit, we'll adjust the travel and force limits and program all the remote controls for you.
Service You Can Depend On
No matter what type of problem your opener is experiencing, count on our technicians to find the root cause and repair the issue. If you're looking for a new model, we'll gladly assist you with that too. Our experts at Garage Door Repair Northport are here to help you with whatever you need.
Need more? We also provide:

Garage Door Weather Stripping

Garage Door Track Maintenance

Emergency Release Repair

Garage Door Tune Up Services